Research and training network on MIniatuized Gas flow foR Applications with enhanced Thermal Effects
from November 2015 to December 2019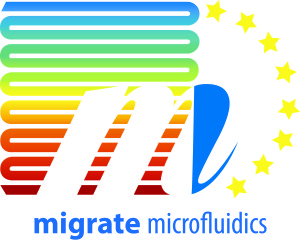 1st International MIGRATE Summer School and Workshop | MMF2016
27th of June to 1st of July 2016 | Strasbourg, France
Summer School 27th to 29th of June 2016:
Workshop 30th of June to 1st of July 2016:
MIGRATE (
www.migrate2015.eu
) is an Innovative Training Network (ITN) financed by the HORIZON 2020 programme (
www.ec.europa.eu
) of the European Commission (Marie Sklodowska-Curie Actions). MIGRATE gathers top-level research and development capabilities from academia and industry as well as direct application possibilities with the focus set on thermal aspects of gas flows in microstructured systems.
Depletion of natural resources combined with the extending footprint of mankind has led to a shift in importance of research and development topics. In the 1970s and 1980s process yield was primarily targeted, but emphasis is now focused on resource efficiency as a primary objective. Routes for resource efficiency have to be identified and implemented to provide a more environmental and resource-oriented technology in near future.
MIGRATE is planned as an ITN. Within MIGRATE, a number of Early Stage Researchers (ESR) projects will cover different aspects of enhanced heat transfer and thermal effects in gases, spanning from modelling of heat transfer processes and devices, development and characterization of sensors and measurement systems for heat transfer in gas flows as well as thermally driven micro gas separators to micro-scale devices for enhanced and efficient heat recovery in automotive, aeronautics and energy generation.
This unique combination of university research, SME and world leading industrial stakeholders will contribute in a significant way to the increase of knowledge about micro scale gas flow heat transfer problems as well as to industrial applications of highly efficient miniaturized devices. A characteristic of MIGRATE is the high degree of applicability and the intense training. About 30% of the beneficiaries are from private sector. Thus, ESR projects will be developed in both directions, fundamental academic knowledge as well as direct application in industrial environment. The training of the ESRs is set in the same way to provide a broad variety of skills, reaching from classical academic research to IPR management and all-day-business in a company, being summarized under the aspect of resource efficiency and environmental-friendly technological approaches.
Main Organizations:
Institute for Micro Process Engineering (IMVT), Karlsruher Institut fuer Technologie, Germany
Institut Clément Ader (ICA), Institut National des Sciences Appliquées de Toulouse, France
Microfluidics Lab, Alma Mater Studiorum – Universita di Bologna, Italy
Department of Mechanical Engineering, University of Thessaly, Greece
Laboratoire IUSTI, Aix-Marseille University, France
Stokes Research Institute, University of Limerick, Ireland
Institute of Mechanics, Bulgarian Academy of Sciences, Bulgary
MITIS SA, Belgium
Alcatel – Lucent Bell Laboratories, Ireland
In'Air Solutions, France
Partner Organizations:
Mechanical and Aerospace Engineering, University of Strathclyde, United Kingdom
'Institut de chimie et procédés pour l'énergie, l'environnement et la santé, Strasbourg, France
Dipartimento di Scienze e Tecnologie Aerospaziali, Politecnico di Milano, Italy
Department of Mechanical Engineering, Technische Universiteit Eindhoven, the Netherlands
Research Flow and Temperature Group, ASML, the Netherlands
Technology and
Vacuum Control, INFICON, Lichtenstein
ATG – AOES, the Netherlands